Drug Education Posters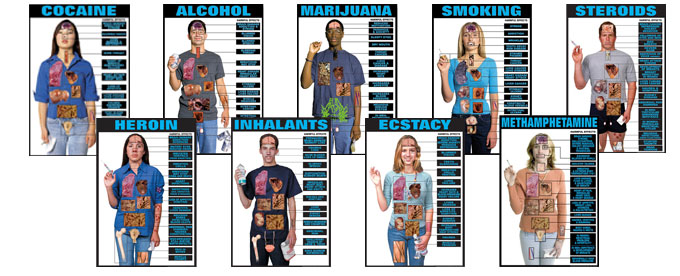 Bruce Algra's Drug Education Posters are both a decorative and educational addition to your wall. The posters feature a young adult model with internal viewings targeting areas effected by the displayed drug. Learn and educate others about the harmful side-effects drugs and alcohol can have on the human body. Specifically targeted to fight dangerous drug use by educating our youth.
The Complete Drug Education Poster Set includes 9 of the most commonly abused drugs, Cocaine, Alcohol, Marijuana, Smoking, Steroids, Heroin, Inhalants, Ecstasy, & Methamphetamine. They each provide detailed anatomical illustrations to show the damage these drugs can have on vital organs. This poster set is a great addition to any hospital or classroom.