Sex Education Posters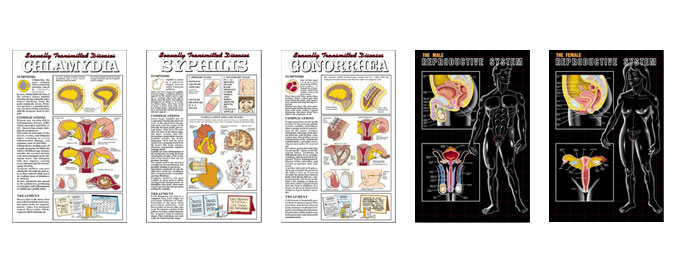 Algra's Sex Education Posters are designed to inform people of the consequences of having irresponsible sex. The posters display detailed descriptions of Chlamydia, Gonorrhea, and Syphilis as well as the functions of the male and female reproductive systems. These posters are great educational tools and are the perfect addition to any education or health facility.
Algra's Chlamydia Poster is designed to educate people about the symptoms of this sexually transmitted disease. The poster depicts all of the symptoms as well as the complications that can occur with the disease. The image includes a detailed description of the types of treatment that can be done. This poster is a great addition to any health facility.

Algra's Complete Sex Education Poster Series is made up of 5 posters showing the Symptoms, Complications, & Treatment of Gonorrhea, Chlamydia, & Syphilis with the Male and Female Reproductive systems.

Algra's Female Reproductive System Poster displays detailed images of the female reproductive system and explains how the system functions. This poster is a great addition to any health or education facility.
Algra's Gonorrhea Poster is designed as an educational tool to inform people of the symptoms of this sexually transmitted disease. The poster depicts all of the symptoms and shows which part of the body is affected. The text includes the complications that can occur with the disease as well as possible treatments for the disease. This poster is a great addition to any health facility.


Algra's Male Reproductive System Poster provides detailed images of the male reproductive system and explains how the system functions. This poster is a great addition to any health or education facility.


The Syphilis Poster is designed to inform people of the harmful symptoms of this sexually transmitted disease. The poster includes images of which part of the body is affected by the disease as well as complications that can occur. The text explains the type of treatment that can be done to cure this disease. This poster is a great addition to any health facility