Health Education Posters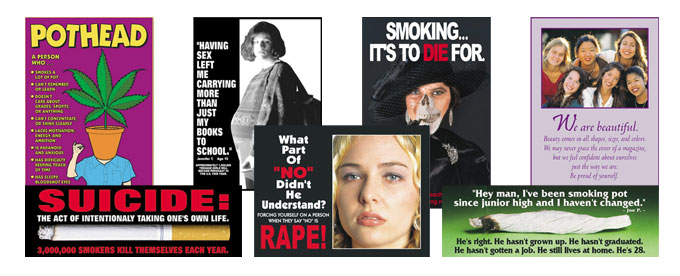 Algra's Health Education Posters are powerful messages used to educate it's viewers. Being taught and reminded of the dangers of smoking, drugs, and sex are critical for today's youth. It is very important to make sure everyone is well informed of the consequences of their decisions.
The Complete Health Education Poster Series includes all five informational posters from the series with a discounted price!

The Pothead Poster displays a humorous image while describing the side-effects someone experiences when they smoke a lot of marijuana, aka a "Pothead." Due to their excessive drug use, a Pothead is at a disadvantage to behaving normally and leading a healthy life.

This Sex Education Poster displays a photo of a pregnant teenage girl along with a description of facts about teenage pregnancy. Approximately 1,000,000 teenage girls will become pregnant in the U.S. just in this year alone. It is important these teenagers are aware and well informed about the consequences of their decisions.
Algra's Smoking Kills Poster provides an engaging photo and fact about how smoking kills over 3,000,000 people a year. It is important for us to inform people of this terrifying fact so that we can work to change the staggering statistic.

The Smoking Pot Poster contains a photo of the drug and an all too real description of a pot smokers life. It is believed that due to learning disfunction the drug causes, a proper amount of growth is stunted leading to a life of little change.

Algra's Suicide Smoking Poster displays a photo of a cigarette and a description about how smoking is equivalent to slowly committing suicide - an act that 3,000,000 people a year choose to commit every day.
Algra's We are Beautiful Poster is a beautiful, inspirational piece that will brighten up any wall. We are beautiful. Beauty comes in all shapes...