Co-Ed Fitness Posters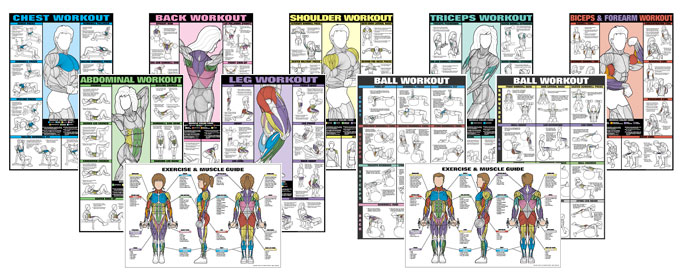 Bruce Algra's world famous Co-ed Fitness Posters provide men and women all the education and inspiration you, your students, members, or fitness enthusiasts will ever need. These beautiful body building posters provide detailed illustrations with just the right amount of instruction to strengthen, develop, shape, or stretch every major muscle group. Eye-catching workout posters contain workout routines and fitness programs with colors that grab your attention and enhance any home gym to corporate facilities.
Algra's full color Co-ed Workout Poster Series, Illustrates how to workout each critical specific muscle for both males and females alike. This comprehensive set includes Exercise and Muscle Guide (Male), Exercise and Muscle Guide (Female), Chest, Back, Shoulder, Abdominal, Biceps and Forearm, Triceps, Weight, Swiss Ball Workout I, and Swiss Ball Workout II.

The Co-ed Triceps Workout Poster is another of Bruce Algra's fantastic fitness program with effective routines to follow. A large center piece illustration of the triceps muscle grabs the eye of any male or female body builder interested in developing and strengthening this muscle. Eight exercises highlighting the triceps in bright color surround this center piece to provide all the instruction needed for the serious body builder or beginner.

The Chest Workout Poster is an example of Bruce Algra's expertise in the realm of fitness and body building fitness posters. 8 of the most effective chest exercises that develop and strengthen the pectoral muscles are illustrated in fine colored detail. The workouts illustrated are designed for both female and male body builders and provide safe demonstrations.
Bruce Algra's incredibly informative Back Workout Poster is designed to help men and women enhance the complete back muscles needed to strengthen your upper and lower back. This beautifully designed workout routine highlights key muscles involved for each exercise in bright colors insuring optimum toning and strengthening of your back. Algra's Co-ed Back Workout Poster highlights the optimal exercises for the male and female body through clear illustration. This body building program is a terrific aide to attain that great looking back and physique.

Enhancing the size, shape, and strength of arms are important to the male and female physique. Attaining arm strength and size comes much easier by following this Arm Workout Poster exercise chart providing specific instructions and detailed illustrations by world famous artist Bruce Algra. The importance of knowing which exercises to do and how to do them properly is key to working out efficiently and safely. Get started with obtaining your arm goals by following this body building, fitness, and workout routine.